[Core Information 05.13] SMIC's revenue fell and OPPO stopped developing its own chips
(2023/5/13 12:11:27)
1. SMIC's revenue fell in the first quarter year on year, and its capacity utilization rate fell below 70%
The foundry SMIC recently announced its first-quarter financial results, with revenue of 10.209 billion yuan, down 13.9% year on year; net profit of 1.591 billion yuan, down 44% year on year. Wafer sales were about 8 inches to 1.252 million units, down 32% year on year; capacity utilization was 68.1% from 100% in the same period last year.
In the second quarter, the company expects capacity utilization and shipments to be higher than the first quarter, sales revenue is expected to grow 5% -7%, and average wafer unit price declined due to product portfolio changes. At present, SMIC Shenzhen has entered mass production, SMIC Beijing is expected to enter mass production in the second half of the year, SMIC East is expected to open the line by the end of the year, and SMIC Xiqing is still under construction.
Looking ahead to the whole year, although the second quarter of the revenue bottomed out, but the extent of the recovery in the second half of the year is not very clear, overall, the market has not yet seen a comprehensive recovery, so the guidance for the whole year remains unchanged, that is, the year-on-year decline in sales revenue is ten percent lower, the gross margin is about 20%.
2. Supply chain: PC will be shipped, and TV inventory will be reduced to health
According to the science and Innovation Board Daily quoted Taiwan, China Electronic Times, the recent supply chain observation, although the PC terminal brand inventory has fallen to a low point, OEM factories still fear the inventory shadow in 2022, with a conservative stock attitude, only proposing urgent orders for some components.
From the perspective of substantial demand, April-May obviously showed a gradual growth trend. It is estimated that the shipment of PC urgent orders from May to June will increase by 10-20% compared with March-April, and TV inventory drops to a healthy level, which also drives the recovery of memory carrying demand.
3. OPPO will stop doing business at chip company ZEKU
Smartphone maker OPPO will terminate its chip company ZEKU, TechWeb quoted Sina Technology as reporting. OPPO said that in the face of uncertainty in the global economy and mobile phone market, it decided to terminate ZEKU business after careful consideration.
According to public information, ZEKU chip company covers product lines including core application processors, short-range communications, 5G Modem, radio frequency, ISP (image signal processing) and power management chips.
4. Memory remains in a buyer's market in the short term
According to kechuang board daily quoted Taiwan, China electronic times, memory chip supply chain, points out that samsung electronics has decided to expand production, but supply output reduced about 2-3 months of transition, plus various memory chip original inventory level at historic high, expected memory chip industry in the short term is still in the buyer's market, the kinetic energy will gradually improve from the second quarter.
5. TSMC's revenue increased in April from the previous quarter
Wfoundry TSMC reported consolidated revenue in April 2023 of about NT $147.9 billion, up 1.7% from the previous month and down 14.3% from the same period last year. The cumulative revenue from the January to April 2023 was about NT $656.5 billion 33 million, down 1.1% from the same period last year.
6. Intel has confirmed that it plans to cut jobs
Chip maker Intel confirmed on Monday that it plans to lay off workers to reduce costs, TechWeb reported, citing foreign media reports. Intel plans to cut 20% of its jobs in its client computing business and data center division. Dylan Patel, chief analyst at market research firm SemiAnalysis, said over the weekend that the budgets for the two business units would be cut by about 10%.
Intel's efforts to cut costs come as revenue faces pressure from slowing demand for chips and fierce competition. Intel's revenue in the first quarter of 2023 fell 36 percent year over year, the fifth consecutive quarter of revenue decline, following a sharp drop in demand for semiconductors or chips for PC and smartphones.
7. Zhaoyi Innovation released the first ARM M7 kernel MCU in China
On May 11, Zhaoyi Innovation released China's first GD32H737 / 757 / 759 series ultra-high performance MCU based on Arm Cortex-M7 kernel.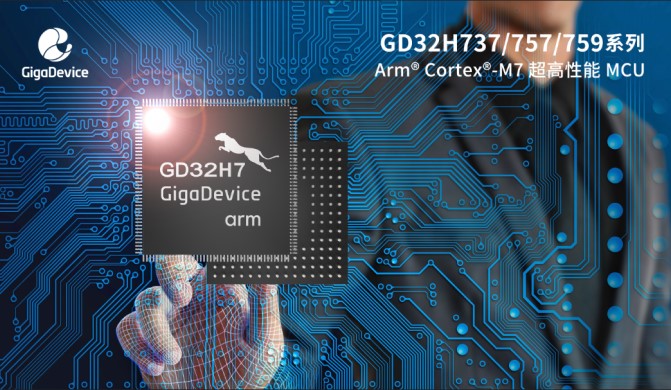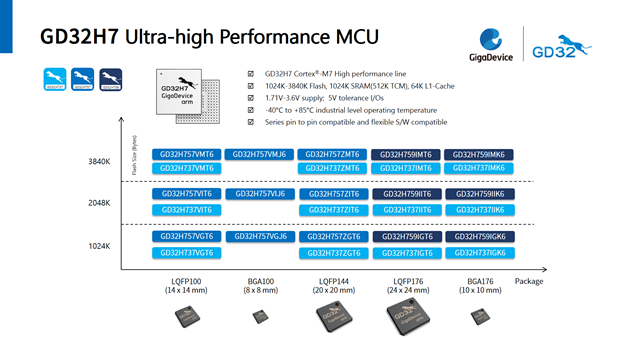 The GD32H7 series MCU product portfolio includes a series of three total of 27 models, including 176 feet and 100 foot BGA package, 176 feet, 144 feet and 100 foot LQFP package. It will open samples and development card applications at the end of May, and will be officially mass produced from October.
GD32H7 Can be widely used in digital signal processing, motor frequency conversion, power supply, energy storage system, uav, audio and video, graphics and image and other applications. Thanks to the super high frequency and large storage capacity, this series of MCUs is also suitable for many high-end innovation scenarios such as machine learning and artificial intelligence.
8. UMC cooperates with Dso to produce IGBT to reduce the power consumption of electric vehicles
In order to capture the automotive chip market, UMC Japan subsidiary USJC and Dso announced cooperation on Monday to produce IGBT, which has been mass produced at USJC. This can reduce power consumption by 20% compared to past components, and wafer capacity is expected to reach 10,000 wafers per month in 2025.
IGBT is a power semiconductor, which is mainly controlled by major European and Japanese manufacturers, and is used in electric vehicles, solar energy, energy storage equipment, etc. Industry estimates that an electric car requires hundreds of IGBT cars, seven to 10 times that of a typical gasoline car, and with the high demand for solar energy storage equipment, the IGBT shortage is likely to last until 2024.
Learn more about our links! (*^▽^*)
→ ~~diary
^_^ 20230513