[Core information 06.06] TSMC or another price increase, Kai Xia west number merger affects the flash memory industry pattern
(2023/6/6 12:45:37)
1. TSMC will raise the contract contract price by 3% -6% next year
According to the financial association quoted Taiwan, China electronic times, IC designer said, although the market is weak, the second half of the uncertain, but TSMC still raised contract price, since January 2024 advanced process will rise 3% to 6%, according to the process, order scale and cooperation closely, the factory is different, the TSMC has been with apple, mediatek, AMD, nvidia, qualcomm and broadcom customers.
2. The revenue of enterprise SSD industry decreased by nearly 50% in the first quarter
According to Taiwan, China industrial and commercial times reported that the off-season effect and high inflation cause North American server ODM and Chinese mainland market purchasing kinetic energy decline, suppliers enterprise SSD inventory in the first quarter, not effectively improve because of production, take price, to expand shipments, make enterprise SSD volume and price, revenue fell 47.3% in the first quarter, $1.998 billion.
Whether Kai Xia can complete the merger with Western Data will affect the future enterprise SSD product research and development planning. If there is an opportunity for further integration, West Digital will focus more on the development of consumer SSD, while Kai Xia can fully focus in enhancing the verification of enterprise customers, helping to expand the number of enterprise SSD shipments and achieve growth.
3. NAND flash memory sales fell in the first quarter, and manufacturers reduced production and inventories
According to IT Home, TrendForce Jibang Consulting research showed that the global NAND flash memory industry revenue in the first quarter was about $8.63 billion, down 16.1% from the previous quarter, after a 25% decline in the fourth quarter of last year.
Demand for servers, laptops and smartphones failed to rise, forcing manufacturers to cut prices to clear inventory, and the global average selling price of NAND flash memory fell by 15% in the first quarter, leading to an overall weakness in sales.
Due to the second quarter of samsung also join production, combined with the represented by OEM buyers purchasing willingness to increase, is expected in the second quarter of NAND flash overall shipments growth of 5.2%, but due to the manufacturer still bear inventory clearing pressure, the whole product price continues to decline, so is expected in the second quarter NAND flash industry revenue will continue to decline, decreased by about 7.9%.
Foxconn plans to produce iPhone in Karnataka state by April next year
Foxconn will start production of iPhone in Karnataka by April 2024, the state's government said on Thursday, TechWeb said, citing foreign media reports. Foxconn had previously said it would invest in Karnataka, where it planned to invest $700 million to build a new plant in the state.
Foxconn said in advance in a statement to the London Stock Exchange in May that it had spent about Rs 3 billion on a 300-acre land parcel in Karnataka in Devanahalli, a suburb of Bangalore, near Bangalore airport.
5. Mediatek led the list in mobile phone processor shipments in the first quarter
According to the latest Counterpoint report, Counterpoint said mediatek continued to dominate the top spot in the global mobile processor market in the first quarter of this year, but its share was down from before, but still more than 30%. It was followed by Qualcomm and Apple, which had 28 percent and 26 percent, respectively, while Unigroup and Samsung ranked fourth and fifth.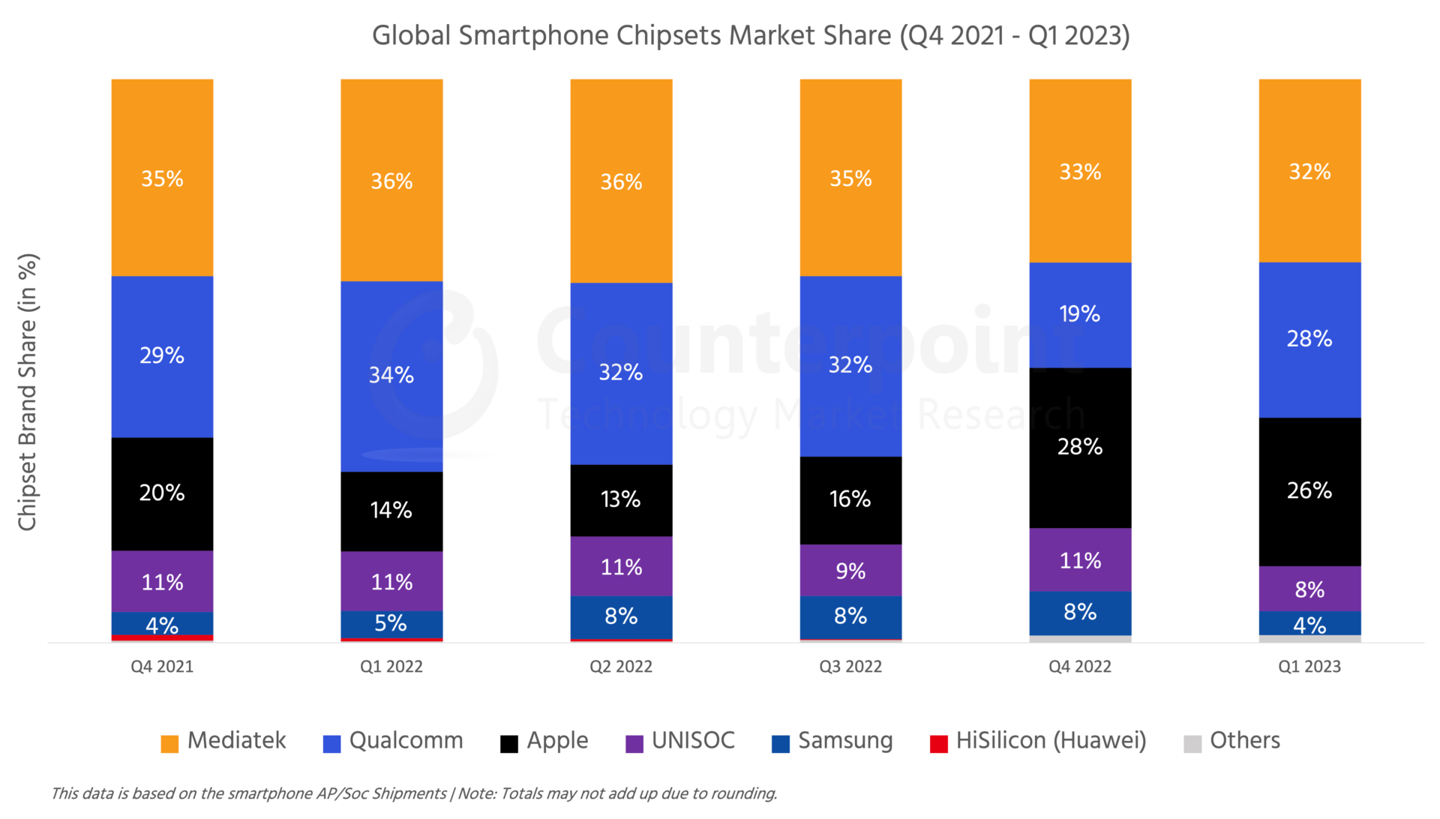 Source: Counterpoint
For the current mobile processor market, Mediatek and Qualcomm are actively clearing inventory, with both saying they will return to normal within a few quarters. IOS outperforms the Android market and is less affected by weak demand, which is Apple's advantage.
6. Renesas completed the acquisition of Panthronics to enhance the competitiveness of NFC market
Renesas announced on its website on June 2 about the acquisition of Panthronics AG, a fabless semiconductor company focused on high-performance wireless products. Renesas also announced 13 "successful product portfolio" solution designs, combining Renesas Electronics 'products with Panthronics's unique NFC technology, demonstrating the continued expansion of Renesas's electronics lineup, especially in the connectivity area.
The acquisition gives Renesas the ability to grasp the growing NFC market. With Panthronics's NFC expertise and senior engineers, Renesas is able to provide customers with a wide range of connectivity solutions in evolving areas such as fintech, the Internet of Things and automotive.
Learn more about our links! (*^▽^*)