[Core Information 06.15] The inventory problem is still to be solved, and the foundry market is shrinking
(2023/6/15 11:54:49)
1. Mobile phone IC pull goods momentum is conservative, chip demand is cold
According to the Taiwan, China Electronic Times quoted by Science and Innovation Board Daily, compared with other applications, there are some demand recovery or chip inventory replenishment, the overall situation of the mobile phone supply chain is still bleak since the beginning of 2023, and the related demand for chips continues to be cold. Unless the terminal buy gas more than expected substantial recovery, otherwise for IC and other components of the pull momentum, 2023 will be quite conservative.
2. MCU destocking may not be completed until next year
According to the Science and Technology Innovation Board Daily quoted MoneyDJ report, MCU market conditions seem to be still cold winter, and the support brought by 618 consumption may be limited. At present, manufacturers are continuing to clear inventory, and customers have the basic demand for inventory replenishment, but longer orders and visibility is low. The industry believes the process of destocking could be delayed until the fourth quarter, or even the first quarter of next year.
3. The revenue of the world's top 10 wafer foundry factories declined to varying degrees in the first quarter
According to KuaiTechnology, TrendForce said that revenue in the wafer foundry market fell 18.6% in the first quarter of this year, and the market size was about $27.3 billion. The TOP10 wafers worldwide saw revenue declines, with TSMC revenue down 16.2% quarter-on-quarter to $16.74 billion, which is expected to continue to decline in the second quarter. But TSMC's share grew to 60.1%.
Samsung's revenue was $3.45 billion, down 36.1% from the previous quarter, the biggest decline among the 10 companies, and TSMC's higher share, while Samsung lost 3.4 percentage points. Grid core surpassed United Power to become the third, the two revenue of 1.84 billion and 1.78 billion dollars respectively, the gap is not big, United power may overtake back at any time. SMIC, in fifth, reported revenue of $1.46 billion, down 9.8% from the previous quarter. Huahong Semiconductor, the sixth place, forecast revenue of $845 million, down 4.2% from the previous quarter, the smallest decline among the top 10 manufacturers.
4. SEMI: Global 300mm wafer plant spending will reach $119 billion in 2026
After falling 18% this year to $74 billion, global spending on 300mm wafer plant equipment is expected to grow 12% to $82 billion in 2024,2 4% in 2025 to $101.9 billion, and 17% to $118.8 billion in 2026, according to the latest report from the International Semiconductor Industry Association (SEMI).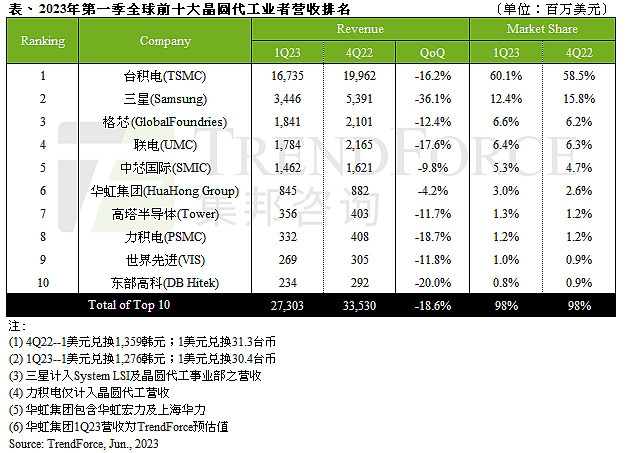 Source: TrendForce Jibang Technology
The foundry is expected to top the list with $62.1 billion in equipment spending in 2026, up from $44.6 billion this year. It was followed by storage at $42.9 billion, up 170% from this year. Spending on the simulation will increase from $5 billion this year to $6.2 billion in 2026. Spending on MPU / MCU, discrete devices (mainly power devices) and optoelectronics is expected to fall in 2026, while investment in logic is expected to increase.
5. The performance of Qunlian in May was double reduced, and the peak season of the third quarter was variable
According to Taiwan, China Industrial and Commercial Times, Qunlian announced its May financial report, consolidated revenue of NT $3.202 billion, down 4% month, down 37.21% year on year, January-May revenue reached NT $16.647 billion, down 40.77% year on year. Although the revenue of Qunlian declined in May, the total number of NAND storage shipments has an annual growth rate of about 30%. At present, due to the relatively low price of NAND, it will help the overall supply and demand balance of NAND supply and demand.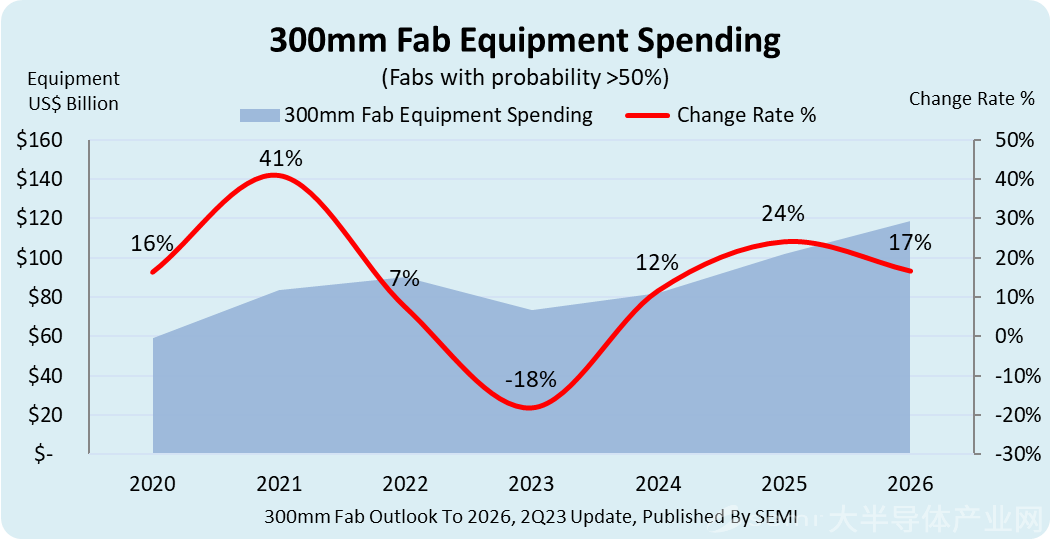 source:SEMI
QunLian CEO Pan Jiancheng pointed out that due to the global end customers and consumer spending, lead to global customer demand for future prospects, take more conservative attitude, dare not positive or upgrade product specifications, let originally forecast should be the traditional season, still need to observe the system customer demand. In addition, upstream suppliers are already facing huge losses, and the room for further price cuts is very limited, and the only variable is still in demand.
6. Demand for AI servers increases, and Hon Hai plans to add several new production lines
Hon Hai, which is responsible for the AI server business, plans to add five to six production lines to meet the growing demand of customers, according to IT Home, citing Taiwan, China Economic Daily. In addition to existing Nvidia, Microsoft and Amazon, giants such as Meta and Apple will also become new customers of Hongbai Technology this year.
Industry analysts believe that in addition to Microsoft's ChatGPT has gained a firm foothold, Google, Meta and Amazon will also deploy heavy forces to push up hongbai technology orders surge, continue to expand production. In addition to two local factories in Hsinchu and Taoyuan, Hongbai Technology also has production lines in the United States, Mexico, Hungary, Vietnam and other places.
7. GecMicro: The 12-inch CIS project meets the conditions for mass production
On June 12, Geke Micro announced that the raised project "12-inch CIS Integrated Circuit Characteristic Process Research and Development and Industrialization Project" BSI production line was successfully launched on August 31,2022, and the first wafer engineering batch achieved a yield of more than 95%.
The project has completed the installation and debugging of the first batch of equipment, successfully produced qualified products with yield meeting the expectations, passed the long-term trust test and acceptance, and reached the conditions of large-scale mass production. As more equipment is installed and put into production, production capacity will be released simultaneously, eventually generating a capacity of 20,000 wafers a month.
8. Grid Core cooperated with Lommaar to ensure the supply of military chips
The wafer foundry and US arms maker Lockheed Martin announced a partnership on Monday to ensure the supply of chips for U. S. military defense systems, according to the report. The purpose of this strategic collaboration is to ensure the manufacturing of a series of advanced and next generation chips, and to adopt the technology of lattice core to improve the vulnerability of microelectronics systems.
Lockheed and Grid Core will seek to bring in external funding and work with the U. S. government on technology development. The Grid Core facility in New York and Vermont has been officially licensed to produce chips for classified defense systems.
Learn more about our links! (*^▽^*)