[Core Information 06.17] Micron, Texas Instruments two original factory to expand the layout
(2023/6/17 12:18:17)
1. Micron will invest more than 4.3 billion yuan in the Xi'an sealing plant
Micron Technology announced on its official website today (16) that it plans to invest more than 4.3 billion yuan in its packaging and testing plant in Xi'an, China, in the next few years. The company has decided to acquire the packaging equipment of Licheng Semiconductor (Xi 'an) Co., LTD. (Licheng Xi' an), and also plans to build a new factory in the Micron Xi'an factory, and introduce new and high-performance packaging and testing equipment, in order to better meet the needs of Chinese customers.
The investment will enhance the company's flexibility to manufacture multiple product portfolios in Xi' an, allowing Micron to directly operate its packaging and testing business at its Xi'an plant. The announced new plant will introduce a new production line to manufacture mobile DRAM, NAND and SSD products to strengthen the existing packaging and testing capabilities of the Xi'an plant. At present, Micron has started the qualification certification work of the mobile DRAM production in Xi'an.
2. Texas Instruments plans to open two new assembly and testing plants in Southeast Asia
Texas Instruments has announced expansion plans to open two new assembly and testing plants in Kuala Lumpur and Malacca, with a potential investment of about 22.6 billion yuan, according to the report on Thursday. One of the new facilities, located next to an existing assembly and testing plant in Kuala Lumpur, is expected to begin later this year and will begin production operations as early as 2025, TI said.
3. The domestic thousand-yuan machine market increased by 22% in the first quarter
According to the latest report from market research firm Counterpoint Research, the domestic smartphone market as a whole declined in the first quarter of 2023, but the entry-level market, where phones priced below $150, rose 22% year on year.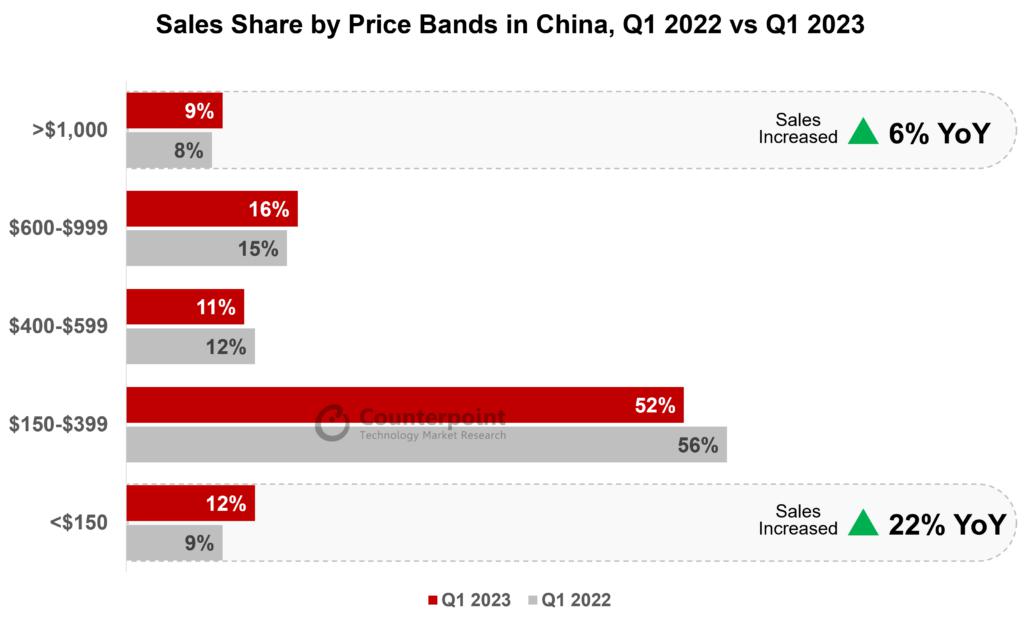 Source: Counterpoint
As domestic demand is more flexible, entry-level market demand is more flexible. Smartphones have become a necessity for finding jobs or working for the gig economy in areas such as food delivery and car drivers. And due to the decline of manufacturing costs, manufacturers continue to delegate 5G and other functions to this market segment. However, the report also noted that Chinese users have been replaced for more than 40 months, and most users are not expected to mainly use phones of less than $150 for a long time.
4. South Korea's ICT exports have declined for 11 consecutive months year on year
As demand for consumer electronics fell in the second half of last year, ICT exports fell by $14.5 billion in May from $20.2 billion to $20.2 billion last year, according to data released on Wednesday, citing weaker demand for semiconductor products and a continued slowdown in the global economy. From July last year to May this year, South Korean ICT exports have seen 11 consecutive months of year-on-year declines.
South Korean data also showed that exports of almost all categories in the ICT sector fell in May from a year earlier. Among them, semiconductor exports were us $7.5 billion, down 35.7% year on year. Panels fell 12% year on year to $1.6 billion; mobile phone exports were $920 million, down 17.2%; computer exports were $830 million, down 53.1%.
Learn more about our links! (*^▽^*)