Ren Zhengfei disclosed that Huawei had affected Japanese, Korean and Taiwanese suppliers in reducing production.
(2019/6/25 10:51:25)
Ren Zhengfei disclosed that Huawei had affected Japanese, Korean and Taiwanese suppliers in reducing production.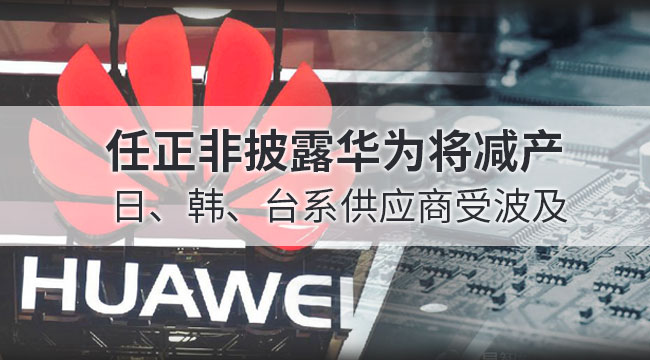 Recently, Ren Zhengfei, founder and President of Huawei, and two of the "three great thinkers of the digital age" - George Gilder, famous Forbes writer, and Nicholas Negroponte, columnist of Wired magazine in the United States, had a dialogue on the theme of "technology, market and enterprise" at Shenzhen headquarters.

In the dialogue, Ren Zhengfei used the analogy of "protecting only the heart and fuel tank of the aircraft, but not other minor components", admitting that he had not realized the problem was so serious before. Subsequently, Ren said Huawei would cut production and revenue by $30 billion over the next two years. In addition, Ren confirmed that Huawei mobile phone shipments in the international market will drop by 40% this year.

However, Ren Zhengfei is still confident about Huawei's future. He said that Huawei is an "immortal bird" and will regain its vitality in 2021. However, for many of Huawei's supply chains, there are pains in the short and medium term at least. Especially for some Japanese, Korean and Taiwan suppliers, they are mostly concentrated in passive components, memory and other fields. The decline of Huawei's overall price trend of production reduction and superposition has a greater impact on their composition.
Japan: Four suppliers, such as Murata, will suffer losses

According to Nikkei News and Goldman Sachs, the loss of sales to Huawei will reduce the profits of four major electronics suppliers, such as Murata, by 25 billion yen ($230 million).

Specifically, since shipments of Huawei mobile phones and base stations will decline, the number of capacitors required will also decrease, which will pose a risk to the revenue of Murata and solar induced electricity. According to preliminary estimates, Murata's operating profit will be impacted by about 10 billion yen, and the profit of smaller solar induced electricity will be reduced by about 150 million yen.

In addition, Kyocera Semiconductor, a chip packaging plant, is facing a decline in operating profit of 4 billion yen due to Huawei's reasons, and the performance of battery supplier TDK will also be affected.

Although the above four Japanese suppliers also supply Apple, in the context of the shrinking smartphone market, Apple can not completely replace Huawei's empty demand, so that the performance of these suppliers can not shrink.
Korean Series: Samsung's gains and losses SK Hailishi's expansion slowed down

Huawei's production cuts are not good news for Korean suppliers. Specifically, Samsung's storage and screen panel shipments will be affected. However, because Huawei was cut off by Google and the overseas market was unable to operate, Samsung could take advantage of this opportunity to expand its share of the global mobile phone market. In addition, Samsung can take advantage of Huawei's ban to expand the share of 5G network equipment in Korea.

Compared with Samsung's gains and losses, SK Hailishi, another Korean manufacturer, is facing a less favorable situation. According to statistics, Huawei accounts for 12% of SK Hailishi's revenue, and the trend of Huawei's output reduction and memory depreciation may turn SK Hailishi's performance into a loss in an instant, and its impact is not small.

As market demand declines, there are reports that SK Hailishi intends to postpone the plan of accelerating production of Wuxi C2F plant, which was officially completed in April. Hailishi originally planned to accelerate production in Q3 quarter.

Since last year, the price of memory has stepped into a downward trend, and the profitability of Samsung and SK Hynix in the Korean system has been greatly damaged. The uncertainties of this year's trade war will be even more problematic for the two Korean storage factories when the market remains unchanged. At present, Samsung and SK Hynix are strengthening non-storage businesses such as wafer OEM to achieve profit diversification.
Taiwanese Department: TSMC continues to supply Huawei as a supplier of Huawei's demand can be substituted.

TSMC is the most important enterprise in Huawei's supply chain, which has long mastered Haisi SoC's agent business. Correspondingly, the wafer fabrication process of TSMC has developed to 7Nm with huge cost. Only by locking several important customers can we guarantee the profit and capital expenditure needed for subsequent R&D. Once Huawei is lost, TSMC is not only at risk of loss, but also unfavourable to follow-up research and development investment of 5nm and 3nm.

Fortunately, at present, TSMC is still shipping to Huawei. The reason is that the proportion of technology in the United States is less than 25%, so it is reasonable and legal. However, once the United States subsequently changes the statistical rules, including machine factors, TSMC also has the possibility of not being able to ship to Huawei.

As for Taiwan's passive component manufacturer Guoju, it shows that it has a very high share in the mobile phone market. If Huawei's mobile phones do not sell well, other manufacturers will still get goods with Guoju, unless the overall demand for mobile phones is sluggish, it will not be immune. However, in terms of the current demand situation in the electronic market, Guoju may face the risk of performance decline just like Murata in Japan, and the overall passive component market can no longer be as hot as last year.
Summary: Huawei's output reduction will be deeply affected by the combined effect of major trends in the electronics industry

Since this year, the semiconductor industry has entered a recession cycle, in which memory and passive components after two years of hot, it is inevitable to usher in a cooling-off period. However, in addition to the semiconductor industry itself, the expansion of Sino-US trade disputes and the banning of Huawei have hit the demand of the electronic market, which also makes relevant suppliers face performance risks and even change their business strategies.

At the present stage, the whole electronic supply chain urgently needs 5G network commercialization to liberate the demand side, but Huawei's banning will lead to production reduction. First, it will hit the current demand. In the long run, it may slow down the progress of 5G network construction and hurt the long-term demand of the supply chain. To solve this disadvantage, we can only hope that the global environment will change, that is, China and the United States can resolve trade disputes as soon as possible. The Global trade situation is turning better again. Whether Huawei or its supply chain enterprises are able to pursue greater profits.