IPhone 12 Pro Max system screenshot exposure: 120Hz, lidar lidar scanner is equipped
(2020/8/26 18:42:20)
2020-08-26 label: mobile phone apple new product source: fast technology
Although this year's iPhone 12 encountered "difficult labor", but the appearance changes, 5nm processor support, 5g support and so on, it seems that the iPhone 12 also shows great competitiveness.

Recently, Jon Prosser, one of the best-known sources, first shared the system screenshots of the suspected iPhone 12 Pro Max PVT engineering machine, including the camera and screen display.

The camera part shows that the iPhone 12 Pro Max can turn on the lidar lidar scanner function, which is used to assist in focusing, video detection, night mode, etc.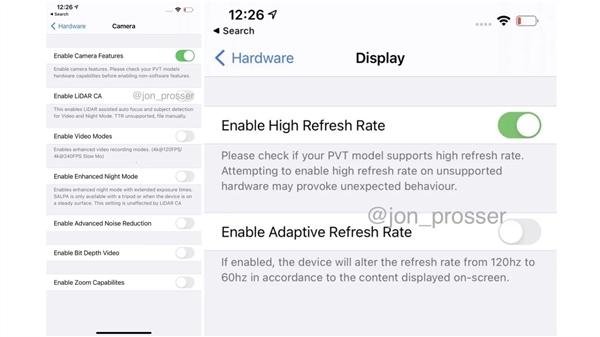 The screen display part confirms that at least Pro Max supports to turn on the high refresh rate, and supports to turn on the adaptive function and automatically switch between 60 Hz and 120 Hz. However, according to Jon Prosser, some of the PVT have a 120Hz option, and some don't.

The so-called PVT is a small batch verification machine, which can be regarded as the final proofing before the mass production machine.

It should be noted that some words in the screenshot are not rigorous. For example, British English and the "H" at 120Hz are not capitalized, which makes people doubt the possibility of PS. however, the informant denies and emphasizes that the engineers are not so particular.

Interestingly, EAP also shared a batch of iPhone 12 Pro max (PVT) screen shots, which seemed to confirm the disclosure.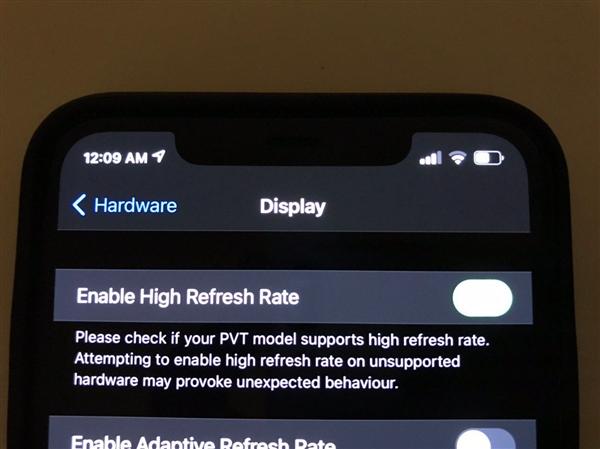 It is reported that the screen resolution of the iPhone 12 Pro Max is 2788 x 1284458ppi, which is consistent with that of the iPhone 11 Pro Series, and foreigners have confirmed once again that the 20W charging head is no longer provided with the machine.